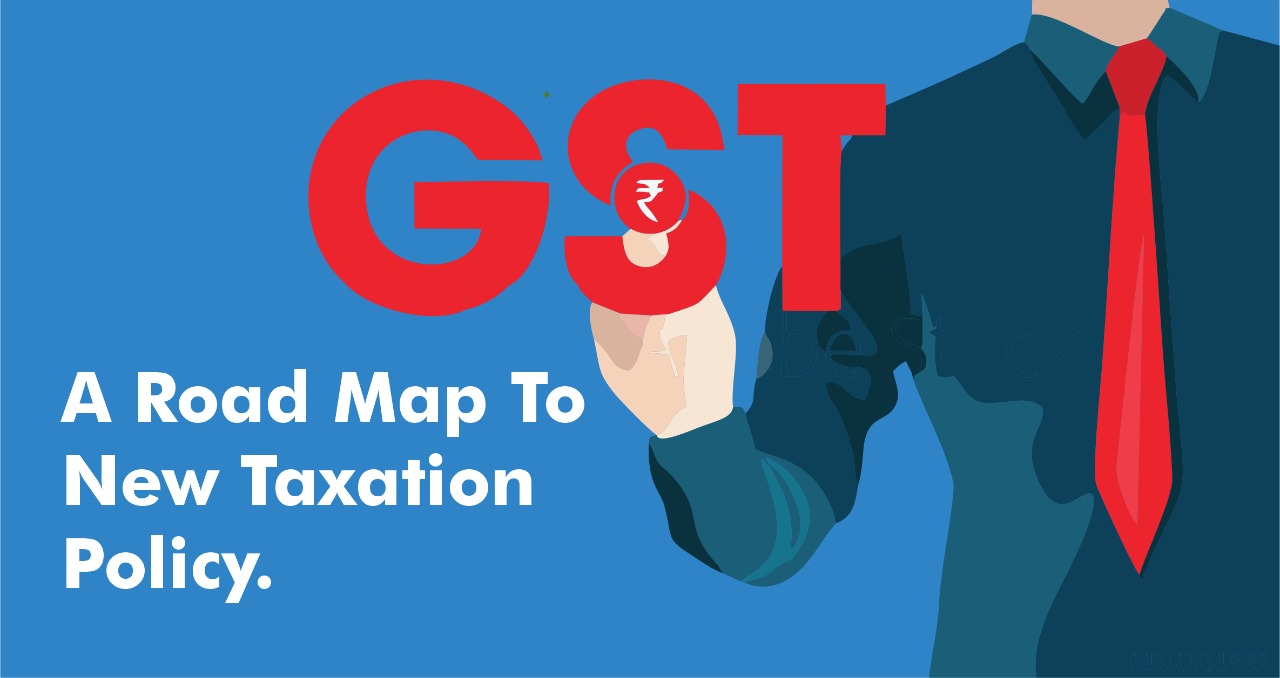 GST- A Road Map To New Taxation Policy
GST or Goods and Services Tax came into existence in July 2017 after replacing the then-current taxation policy, GST aims at bringing the uniform tax rate throughout the country, leading to the less complex taxation system and encouraging more and more taxpayers for timely payment of tax. It is a multi-stage tax, by multistage we mean that GST imposed at every stage but is refunded to all the parties in various stages of production GST came into effect from 1st July 2017 replacing the existing taxation system.

There are four types of GST


Central goods and services tax.
State goods and services tax.
Integrated goods and services tax.
Union territory goods and services tax.

Let's get the GST concept through an example
GST amount = Taxable Amount * GST rate
GST excluding amount = GST including amount/(1+GST rate /100)
Suppose, GST including amount is Rs. 500 and GST rate is 5%
GST excluding amount = 500/(1+5/100)= 476
GST is calculated on the transaction amount, not on MRP.
Goods and Services Tax is a tax that consumers have to bear when they buy any goods or services.

The Concept of GST lays emphasis that it is an Indirect Tax, this tax is directly not paid by the customers to the Government, but it is added in the total cost of the product, all the Customers pay price including the GST amount, So all of us end up paying taxes even if we are not income taxpayer.
GST LAUNCH
However the term of GST was coined up two decades before the actual launch, but ever since the project got delayed, But this time Prime Minister Narendra Modi who took the matter into his hands and even before the launch many negotiations, revisions were made to this and then on 1st July 2017 it was officially made into the Constitution.
GST BENEFICIAL FACTS
GST was brought in as a revolutionary change replacing India's biggest tax system since Independence. GST replaced indirect taxes such as states' sales tax, service tax, excise, etc., with a single central tax applied uniformly on all products and services. However, the biggest benefit of GST was that it bound up entire India as a one market allowing for free movement of goods across states' borders, earlier that was carried on with several restrictions. GST allowed for faster movement of vehicles and led to requirements for fewer storage facilities across several states.GST has multiple tax rate slabs for different categories of products – a fact that still makes it more complicated than many expected.


TYPES OF GST
1.Central GST (CGST)


GST paid on each transaction is divided into two equal parts: the part for the Centre is termed as CGST.


2.State GST (SGST):


The part of a state's share of GST, when a transaction takes place within the state, is called SGST.


3.Union Territory GST (UGST):


When a transaction takes place within a union territory (UT) without a legislature, the part of GST that the Union Territory gets is called UGST.


4.Integrated GST (IGST):


When a transaction takes place between two states/Union Territories or between a state/Union Territory and any foreign territory, IGST is levied without any break off on the applicable GST rate

GST is an Indirect Tax or Consumption Tax which gives benefits such as


Simplifying the taxation procedure so as to encourage small startups.
Helping the government to generate revenue for further development.
Eliminating the overlapping of taxes payable.


Benefits are not only confined to the people registering with GST apart from that Consumers get a uniform price of goods and services throughout the country, but also ensuring less paperwork and simplified taxation system throughout the nation.

Mentioning about the benefits availed by the Government will attract a lot of Foreign Investment boosting up the Foreign Trade, this will encourage our various small scale traders to have foreign trade and maintain the proper balance in Imports and Exports.

GST policy has lessened up the bulky taxation method by ensuring full transparency in the payment method of taxes whereas encouraging easy entry into the market.

Goods and Services Tax (GST) has brought in major advantages and has simplified the tax system for everyone in the country. Though there have been certain a considerable increase in the prices of certain products and services, the consumer or the trader can maintain and increase their assets under the GST tax regime.


About us


We are helping new or existing business owners to register their GST number without visiting the Government office, GST online process. Get a call from an expert & register your GST by us. We will send the GST no. & certificate on the same day. ISO certified company.


Easy GST Registration Process for you



Step1: We help you get a Secure GST Identification Number.
Step2: We make it easy for you to get your GST from the comfort of your own home.
Step3: One of our GST executives will process your GST application and verify your details.
Step4: We will send you GST Certificate via registered email.
Step4: We will file your returns and complete all other compliances as and when required.


What are you waiting for? Get a Free GST consultation Now!

We have more than 3 years of an experienced team in the financial department, who will resolve all your GST work with ease.